With the wall-to-wall media coverage of the recent royal wedding many teachers may be planning wedding and marriage-themed lessons as part of relationships and sex education (RSE). One approach is to look at wedding-themed story books.  
At the Sex Education Forum we are always keen to ensure that all RSE lessons are inclusive, and a lesson on marriage should be no different.  There is no shortage of books about 'traditional weddings', where a man and a woman (usually white) get married and 'live happily ever after'.  Those books do not fully reflect life as it is in England for children today, and so any school library should also include a selection of books which celebrate marriage and family in all of its forms.
We have reviewed a selection of such books – all picture books, and all suitable for children from ages 4 to 8. A longer list, and practical advice on using story books in RSE is provided as part of our LGBT-inclusive RSE training courses. 
King and King, by Linda de Haan and Stern Nijland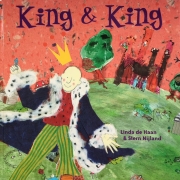 This book starts off in a very traditional way, with a Queen looking for a princess for her son to marry.  Many princesses are introduced to him, from many different and diverse countries, but none of them take his fancy.  He then finally does fall for someone – the brother of one of the princesses.  They fall in love at first sight, get married and are then known as King and King.
Princess Smartypants, by Babette Cole
Princess Smartypants loves being a princess, but doesn't want to get married.  So she devises some tests that any prince will have to pass in order to be able to marry her.  Only one prince is able to pass the tests, but he is then turned into a frog when she kisses him. At the end of the book she is shown living happily ever after with only her royal pets to keep her company.
The Great Big Book of Families, by Mary Hoffman and Ros Asquith
This book shows all the different ways that families are constituted, and the variety there is in how they live, work, holiday and celebrate.  It is beautifully illustrated and does not put a value on any one type of family over another, but instead is a respectful and endearing look at how different people live.
Two of Everything, by Babette Cole
This is a charming book that takes an unconventional and humorous look at divorce.  It tells the story of Demetrius and Paula Ogglebutt, whose parents do not get on with each other and are constantly arguing.  The children seek advice from their friends, and come up with the idea that their parents should have an 'un-wedding', so they ask the vicar if he can perform one for them.  Their parents love this idea, and the book ends with them all living happily ever after, in two different homes.
Further support
A set of questions to explore in RSE relating to marriage, weddings and the recent Royal wedding in particular are available for members via our May bulletin.
For more inclusive books to have in your school or classroom a great place to start is the Letterbox Library. They specialise in books that celebrate diversity and inclusion, and offer several themed book packs for schools and libraries.
For a longer list of story books and practical support in how to use them as part of an inclusive RSE programme have a look at our Get Ready for Statutory RSE training days and our LGBT inclusive RSE course.
Dr Eleanor Draeger
May 2018