The Sex Education Forum is delighted to bring you a new national RSE conference this autumn.
RSE in schools is changing. We're counting down to the start of statutory RSE by guiding teachers through the new legislation, advising on curriculum design and helping you choose the best resources and teaching approaches to build an inclusive and up-to-date programme that is relevant to your pupils real lives and supported by parents. 
Having shaped policy and practice on RSE for 30 years, we will present our delegates with keynotes from leaders in the field, share hand-picked examples of good practice and provide immediate advice in response to your questions on the day.
Who is it for? Primary and secondary teachers leading or teaching PSHE / RSE,  Head Teachers and Deputies, pastoral staff, youth workers, school nurses, local authority RSE leads.
Join us on Friday 30th November for :
Keynotes briefing you on the legislation and setting out a framework for high quality RSE
Young people's views about what they need including the launch of findings from a new survey
Expert panel Q and A who will take your questions from the floor
Workshop options which you can select from a menu catering for primary and secondary school level, with a stream for teachers new to RSE as well as experienced educators wanting to develop their career as PSHE and RSE specialists.
Sessions focused on whole-school approach & safeguarding, LGBT inclusive RSE, gender identity and gender equality, faith school case-studies and parental engagement
Resource and information stands and ample opportunities to network and handle a wide range of RSE resources
Confirmed speakers, panelists & workshop leads include:
Lynnette Smith – Managing Director of Big Talk Education and Chair of the Sex Education Forum
Dr Mary Bousted, Joint General Secretary, National Education Union (NEU)
Dr Sara Bragg, Co-author 'Researcing Everyday Childhoods: Time, Technology & Documentation in a Digital Age'
Jen Lelliott, Assistant Principal, ARK Helenswood Academy, Hastings
Lucy Emmerson, Director, Sex Education Forum
Dr Polly Haste, Head of Training & Practice, Sex Education Forum 
Dr Eleanor Draeger, Senior RSE Trainer and Sexual Health Consultant
Alice Hoyle, DO… RSE
Dr Jenny Lloyd, MsUnderstood Partnership at the University of Bedfordshire
Professor Vanita Sundaram, University of York
Josie Rayner-Wells, Independent National PSHE Adviser 
Jonny Hunt, Independent SRE Consultant, Going off the Rails
Rachel Williams, Training Manager, The Proud Trust 
Victoria Pugh, Lecturer in PSHE and RSE, University of Worcester
Catherine Fletcher, Teacher at Leominster Primary School
Dr Alex George - Guest appearance from Love Island star
For full agenda, please click here. Descriptions of all workshop choices are provided here. 
Trusted by education unions, influential with policy, and in touch with practice – we are delighted that NEU is our event sponsor.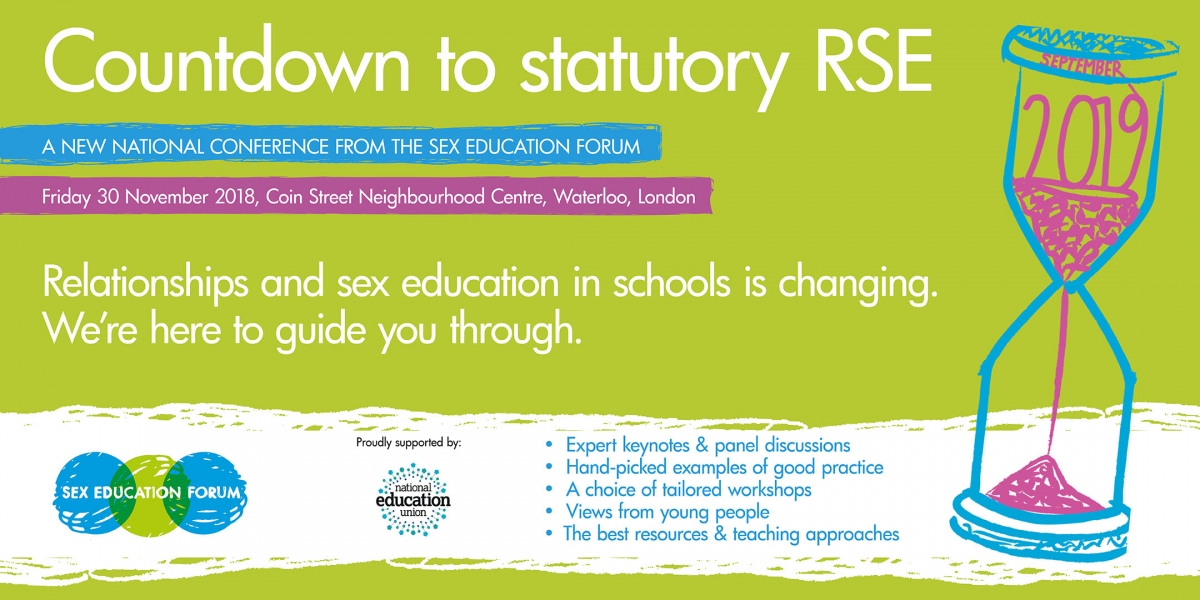 Early booking is recommended for this new annual conference from sector leader, the Sex Education Forum.
FAQs
Where?
Coin Street Neighbourhood Centre, which is an environmentally sustainable central London venue within 10 minutes walk of Waterloo Station.
How much?
As a member of the Sex Education Forum, you can get £25 off the price of all training courses as well as our members' event and our national conferences, such as this one. Please see our events page or our training calendar to find out more.
Do I have to purchase membership to qualify for the discount?
Yes. You must purchase Sex Education Forum membership prior to booking on to our training or conferences at the discounted rate. You can purchase membership through our website.
Can I display our organisation's promotional material at your conference?
Stands are available (with ONE conference ticket) from £399 for partners of the Sex Education Forum. Prices for non partners available on enquiry: sexedforum@ncb.org.uk 
Is it OK if the name on my ticket or registration doesn't match the person who attends?
Yes, tickets are transferable. Please note that all course materials will be sent to the email address listed in the booking.